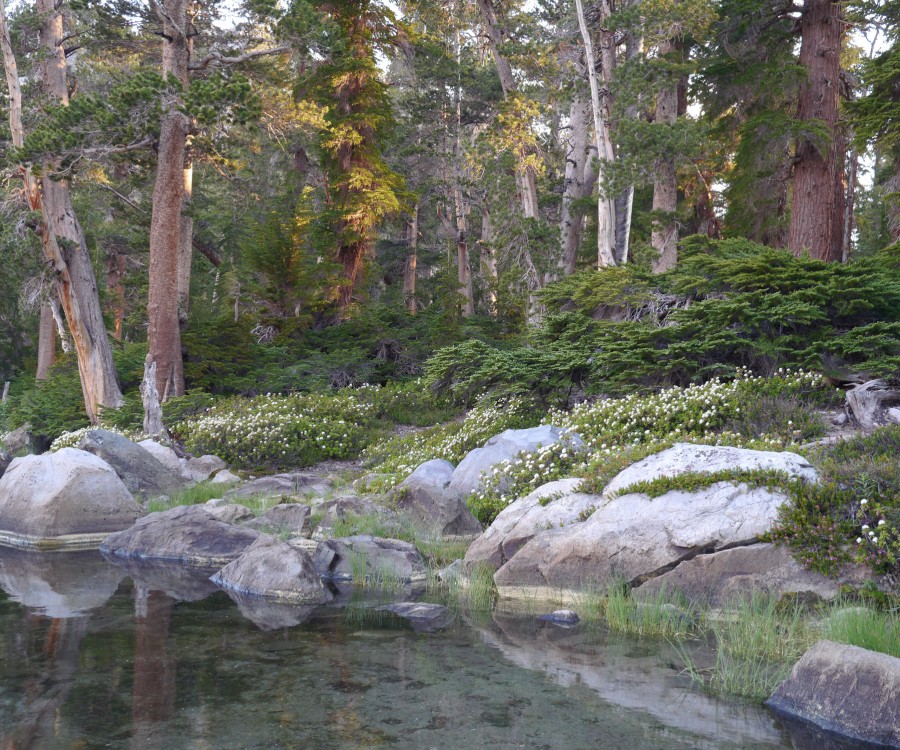 Daily: 8.7 miles (+1 mile)
Trip: 59.6 miles
Camp: Red's Meadow/Mammoth Lakes Travelodge
Devil's Postpile is overrated. My geologist of a wife might disagree, but I thought it wasn't nearly worth the either the difficulty of the detour or dealing with the tourists. It was a slightly cool-looking set of columns and rock chunks. If it were on the trail, yeah, I'd check it out. And if they served burgers at the Postpile, I might even stay for a while. But it's day seven of the hike. Seven days since a shower. And being surrounded by a crowd of people is tough. I'm sure many of them are very nice people and some of them are very attractive (and clean!) But they get in my way, they're loud, the kids are rude and the parents are tired or ignorant of how to parent when your kids are rude. It's ½ mile of hiking each way from the JMT. At least, that's what the sign says. Sure feels like more to me. And the siren call of 'town' is only two trail miles ahead.
But I digress. We had a delightful morning walk down from Rosalie Lake. Through open forests, among bright green meadows and clear, shallow ponds. We watched a Belted Kingfisher that Chris spotted as well as a duck and her ducklings. Conversation was light and we were walking easily. It was easy walking on the trail, but we were surrounded by trees blown down by a powerful storm 18 months prior. They were everywhere, dominating the landscape for miles, many blown down in the same direction. The work to clear them off the trail must have been incredible.
We passed a couple of trail crews, one coming up on horseback mid-morning. The other was working above Rainbow Falls near the end of our day's hike. Both crews were Trail Gorillas, a PCT association. This group of volunteers handles the maintenance on the southern 700 miles of the PCT according to their website, but this spot was about 200 miles north at the 900 mile mark. I wonder if they expanded their range?
There has been such amazingly good trail maintenance on the JMT. So little trail washout, such incredible stairs and excellent great footing. I'm familiar with many of the trail work techniques, having done about a week of trail work over the years. But they have a new one out here I've started calling 'Sierra Paving'. They place a major rock deep into the trail in a spot that might see washout. Rather than just using that rock as a water bar (shunting water off the trail), however, they proceed to pave the section of trail above that rock with many other rocks, also somewhat embedded into the trail. The result is a beautiful, fitted collection of rocks immune to washout, tipping, etc. I know that rock is fairly readily available in the Sierras, but this is a pretty intensive technique and an attractive and effective end-product.
If you're reading this and have done trail work in the Sierra, especially on the JMT – Thank You! And if you can tell me more about what this technique is called and why it's used here, I'd love to know!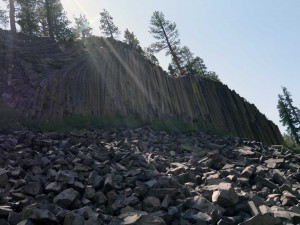 So we took the detour to see Devil's Postpile. I think I've mentioned my delight in this detour. Then Chris headed directly into Red's Meadow while Green One, Erin and I backtracked to the JMT. Chris was fine with the distance he'd covered and ended up taking a ranger-led tour. Erin wanted to do the miles, however. She had her mind set on doing 60 miles of the JMT and, as I learned, she's pretty tough to dissuade once she's made up her mind. Me? I was going to do the miles anyway, but I might have rather done them the next day. No big deal. Only a few miles.
About ½ mile later we came across a great viewpoint of Devil's Postpile on the JMT. And a number of other instances of slightly less impressive basalt columns. On the JMT. Long and short of it – unless you're fascinated by geological oddities and looking to walk extra miles, stay on the trail!
The last couple miles were hot and dusty. It was the end of Erin and Chris's hike and we were just trying to get it done. Instead of being smart and treating more water, taking a shoe-off break, etc., we pushed too hard. The last mile was a slog and we arrived at Red's dry, tired and hungry. But that made the burger, fruit, and root beers even better!
Two hours later we'd bused, bused, and trolleyed back to the hotel in Mammoth Lakes. It was a couple hours filled with videos with Heather and the kids, showers(!), a call to our parents, checking in on work issues, laundry, etc. All was going well off-trail, so we headed next door to Angel's for BBQ, sweet potato fries, and a beer. Then I got to watch the Sox beat the Angel's 6-2. That was particularly sweet since the California crowd was rooting for the wrong team! Back to the hotel room to sleep in a bed with a pillow.
It's the little luxuries…
Day 8: In Which We Say Goodbye to Chris and Erin, Float Rocks and Break Zippers