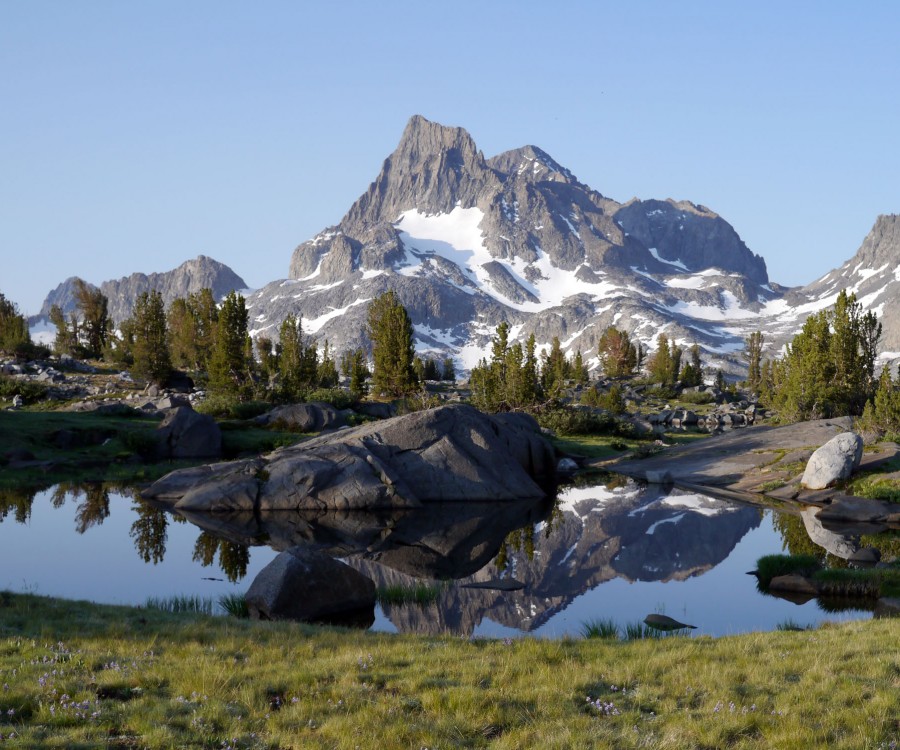 Daily: 8.6 miles
Trip: 50.9 miles
Camp: Rosalie Lake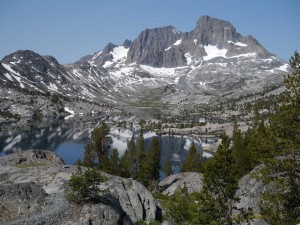 Happy Independence Day! It's been a really cool day on the JMT and, despite the lack of fireworks, seems like the right place to be celebrating our nation's birthday. The sense of simplicity that I crave so much when backpacking has returned and the woods and mountains feel like home.
Ritter & Banner – the landmark mountains of the Ansel Adams Wilderness – came into view right after leaving camp. I got out of camp first this morning and it was insanely beautiful. I could barely keep the camera in it's case, there were so many high quality photographic opportunities! First it was the meadows and the peaks, then it was the view of Thousand Island Lake at the base of the mountains. Then Garnet Lake and more! Amazing sites today.
We passed a number of these amazing Juniper Trees today. I grew bonsai for about a dozen years and like to think that I understand how trees grow and properly appreciate tree shapes. In fact, I had a Shimpaku Juniper for about 6 years and it was one of my favorite trees. These things are awesome!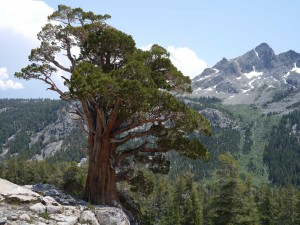 Beautiful, thick, shaggy, reddish-brown bark
Powerful, exposed root balls
Complex, branching, needle-like growth of mixed greens
Strong branches starting low on the trunk, often reaching down to ground-level
I say some nice 11-inch rainbow trout while walking past Ruby Lake, so took a couple minutes to rig my Tenkara rod and landed one on my first cast. It was still early in the day, though, so even though this was the largest trout I've ever caught in the backcountry, I released it and the others that I caught at Ruby. I broke out the rod again while cooling my feet off at Shadow Creek and again landed some brookies within a few casts.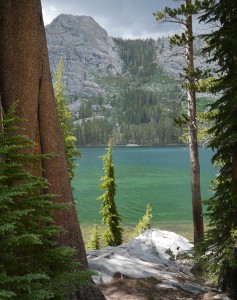 We made our way up a series of switchbacks prior to Roselie Lake as we climbed up a 700 foot hill and were threatened again by thunderstorms in the early afternoon. In fact, the thunderstorms caught up to us and rained lightly for about 10 minutes after the tents were up and as I was heading out to fish. The amazing thing about getting wet here – as opposed to on the East Coast – is that you get dry! Immediately! Seriously, it takes about 15 minutes for a fully drenched shirt to dry out in the hot sun. That takes all the pressure out of getting wet, since you know it's just not going to last long. It's certainly a lovely benefit to hiking the JMT compared to some other trails!
Roselie turned out to be the best lake I'd fished yet. Lots of rainbows and golden trout including some larger fish. I kept a 9-inch golden, an 11-inch rainbow and a 13-inch rainbow and brought them back into camp drooling. We used a technique that I'd read about 30 years ago but never tried, gutting them, then positioning them just over a hot bed of coals and flipping them once. The skin burns but peels off easily, letting the flesh be easily pulled off the numerous, small trout bones. A quick sprinkle with salt, pepper and lime crystals, and they tasted wonderful! Just as cool was the pair of coyotes that came by to check out the smell, but turned away more than 100 feet from our dinner site.
One more day's hike to town tomorrow. Looking forward to a video with Heather and the kids, a call to our parents, a shower and lots of high calorie town food!
Day 7: In Which We Get Back to Town and Eat Too Many Sweet Potato Fries