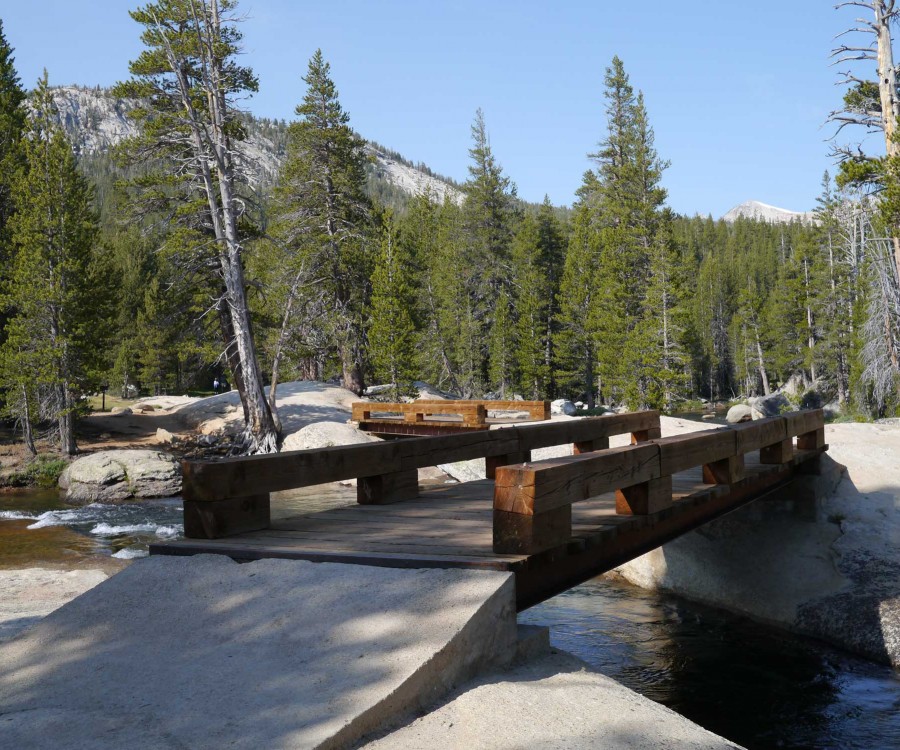 Daily: 10.4 miles
Trip: 32.5 miles
Camp: Well South in Lyell Canyon
Despite the absurd luxury of having both a bathroom and a picnic table available to us, we walked out of the campground around 6:30am. We consisting of Green One and myself. Erin and Chris had a bit more to do at the post office and didn't feel compelled to hike the 3.7 miles between where we got off the trail and where the JMT was most easily accessible. That's one of the personal choices out here – do you hike every mile of a trail? Both my brother and I feel we need to, so we enjoyed the stroll back through the entire campground and across the ½ mile of non-JMT trail until we rendezvoused with the JMT. My peevishness remained minimal, however – that hamburger had been magical!
The walk was beautiful. It's not surprising, really. The National Park Service knows where to build roads. In the best parts of the park. We learned that in Yellowstone a couple years back when we saw almost no wildlife – just a single moose – during a 3-day backpacking trip. We then spent a day driving around the park roads and encountered the bison herds, 2 grizzly bears and antelope – as well as the best geysers, hot springs, etc. The trail in Tuolumne Valley led us through mist-filled, peaceful meadows, along gentle rivers, and past cool granite walls. In fact the trail was so easy we beat Chris and Erin to our meeting spot, so I was forced to hang out at the Lyell Fork of the Tuloumne River and cool my feet.
Even though they didn't bring me a breakfast sandwich or two from the grill – egg & bacon on a biscuit would have been fine – I was still happy to see them. They didn't have coffee for me either. And it was less than a mile hike from the grill! But I didn't even notice my stomach gurgling angrily at them. So we walked on. Hungrily.
The day had been getting cloudier and we'd gotten drizzled on a very little bit the prior day, but it wasn't until we were about 5 miles up the canyon that it got serious. It started raining a bit and I put on my raincoat, then it started pouring, accompanied by thunder and lightening. The trail up Lyell Canyon is flat, so pouring water can't do much but sit in place on the trail. So soon I was splashing through puddles up to 4 inches deep.
There's a peaceful feeling to walking very wet trails. You give up on keeping your feet dry and just enjoy the wet, coolness. I'd reached that point and has happily splashing along through the trail and assorted stream crossings (no rock-hopping necessary!) when the pouring rain changed over to ¼ inch hail. That changed things although my hat was somewhat protecting my head. The rest of my skin was getting zinged and the wind was picking up as the temperature dropped. Do we just hike through and see when it'll end? How likely are we to get struck by lightening while walking across a meadow?
When I saw a bolt hit the mountains to our left, I decided to take shelter and we huddled for a while beneath some trees that we somewhat, but not quite, not protecting us very much. So we hung out, wet and cold, wondering when things would get warm and sunny again.
Nature messes with you. Not intentionally, perhaps, but it's real easy to personify a storm. We started walking. The hail picked up. We took shelter again. It stopped. We did this a few times and the storm slackened over about ½ an hour before we decided to bite the bullet and go find a campsite.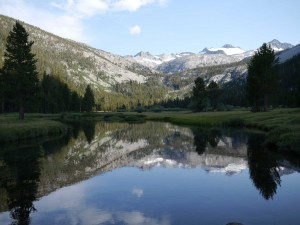 By the time we found a site, the rain had stopped and the sun was already starting to dry things off. Even better, it was only 3:30pm or so and there was plenty of time to break out my new fishing rod! I've moved from bait & spin fishing to fly fishing over the years. It's a lot more engaging and makes me feel much more involved with the natural world. This trip involved a new piece of equipment, however. I'd picked up a Tenkara Ito, a 14'7″ telescoping carbon fiber rod without a reel or line guides. Instead the simple fly line quickly attaches to the tip of the rod and I pull the fish towards me instead of reeling it in. My fly rod requires a protective tube but the Tenkara rod is solid enough to stand alone in a side-pocket of my pack and weighs just over 4 ounces. Add some extra line and flies and my fishing kit is now under 7 ounces.
It took me about 3 minutes to catch my first brook trout. I caught a dozen in the first half hour before letting my brother play a bit. With the length of this rod and the lack of weight of the line/fly, I can hit any target within about 25 feet. The brookies were maxing out at 6 inches but I have high hopes for bigger fish in coming days!
Day 5: In Which We Climb Our First Two Passes and Almost Ford a Creek