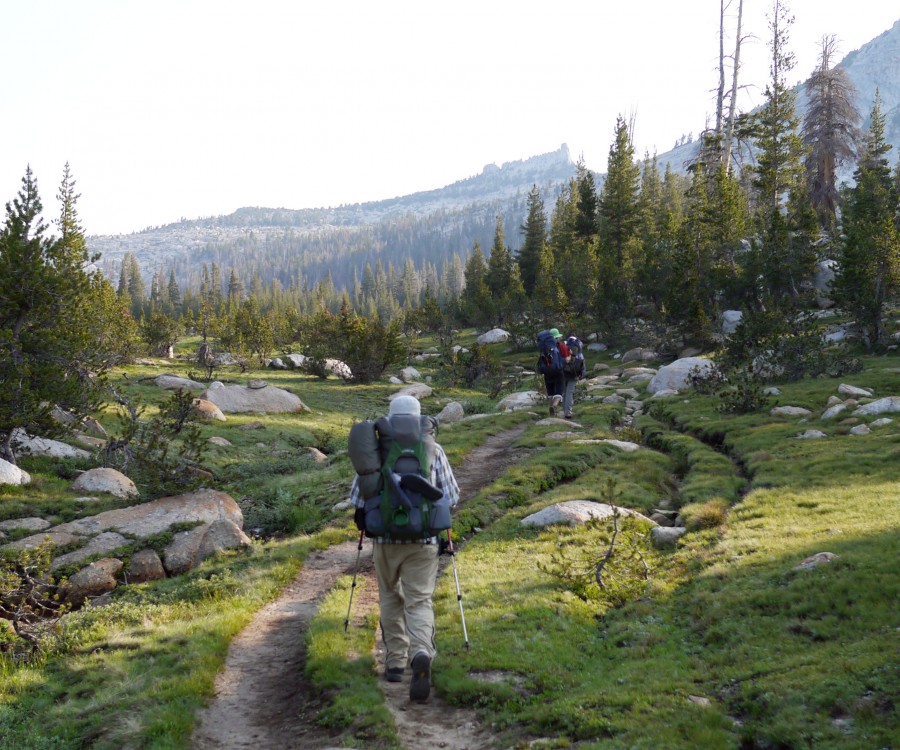 Daily: 7.4 miles
Trip: 22.1 miles
Camp: Tuolumne Backpackers' Campground
Chris wakes up early. 'In the dark' early. Not too surprising 'cause we're hitting the tents before 9pm, but I like to be able to see before I move. By the time I emerged from my tent, Chris was already working on breakfast. He's on cup of coffee #1 of 3, making oatmeal, and taking care of other necessary business in the woods. Luckily I was able to sleep a little later than that and begin nibbling away at my sleep debt. It'll make me less of a jerk to hang around with, I'm sure.
Today was a nice stroll through dry open forests with a couple new valleys coming into view. We took the pretty side trail down to lower Cathedral Lake and then flirted with a thunderstorm as we approached Tuolumne Meadows.
You can access the Tuolumne facilities – campground, post office, store and grill – from either the east or the west. Not really sure what the distances were, we hopped off the JMT early and hit them from the east. Oops. In fact, weren't quite sure, so we detoured first to the visitors center to ask for directions. Maybe they'd have an idea what to do? Nope, too busy for a good answer. There was a somewhat lonely volunteer manning a booth outside however, and he was good enough to give us a map of the Tuolumne facilities. Then he started drawing on it. He described things in long, rambling sentences and drew loose lines and circles on the map to match. By the time he was done five minutes later, I had no real idea where we were going. Actually, he wasn't done. I just managed to stop the one-sided lack of a conversation, wrest the map from him, and start walking towards where the backpackers' campground might be.
So we walked and walked – not on the JMT – for 1/2 mile or so. Then we hit the campground. And still we walked. We must have passed every single #@*& site in that campground, stopped and looked at the scribbled-on map 1/2 dozen times, and still we weren't at the backpackers' section. And I was pissed.
It was my fault. I knew there was a cafe. So instead of being a smart, little backpacker, I just walked. I didn't snack. I didn't drink enough. And I bonked. My blood sugar got low enough that I got irrational, angry, and even less fun to be around. Oops again.
There were no signs pointing to the backpackers campground until we got there. Note to the National Park Service – we're backpackers! We walk! We don't drive those 'car' things, let alone those fume-spewing 'RV' things. So maybe you want to take that into account when deciding how easy it is for us to just cruise around and find something? My feet hurt! …So we finally found the backpackers' campground. There were tons of open spots, so we picked tent sites out and set up tents. Then I got frustrated at the reservation system. Heck, we camp in the woods for free. Here they want $5 per person? But they can't give us change – should I rip my $10 bill in half? They want the money in the bin within 30 minutes of arriving in the campground without any good way to make change? Nice system. And oh, there's an untouched stack of receipts of campers who have stayed here. That tells me they haven't been checking every 30 minutes. Heck, they haven't checked in 3 days.
Yeah, I was angry, irrational and frustrated. Then we found our way through the woods to the post office – no signs! I picked up my mail drop of food for the next four days and sat down to make sense of it. You need to hear again that I've thru-hiked the Appalachian Trail. I'm not new to the idea that backpackers need to eat food. But somehow I came out of the first three days of backpacking with a still half-full bear canister. Then I picked up an eight pound box I'd mailed two weeks earlier. And I stared at them, perplexed. And really frustrated.
Then, my brother did exactly the right thing. He brought me a hamburger. With fries. And a Coke. 20 minutes or later, my head was screwed on straight. I was still befuddled how I'd screwed up my food so badly, but now I was able to deal with it. I prepped the food drops based on about 3200 Cal/day. And I think, in the rush of test-fitting the food in the bear can and getting it out on time, I forgot to decrease the calorie count for the beginning of the trip. So I was eating 2000 Cal/day and had a bunch of leftovers. Tuolumne? Same thing – I screwed up the calorie count. So I bent to it, resorted the food by meals and days, and set up the four days that would take me to Tuolumne. The fact that I was left with a box worth about $60 and weighing roughly the same as the one I'd shipped across the country pissed me off a bit, but I spent the $15 and shipped it home.
All better. Time to get a Dogfish 60 minute IPA and relax in the parking lot with the tremendous crowd of PCT thru-hikers. This is the intersection of the JMT and PCT (Pacific Crest Trail) and the two will share the same trail for much of the next 180 miles. As I sat there, I thought about the food issue a bit more. Maybe my 20-month old daughter was just messing with me while my back was turned, moving food between my boxes. Hmmm.
It was a fun evening of hanging out with the PCT thru-hikers. I got to learn much more about their trail including the first 500 miles through the desert, what type of equipment they're carrying, and what the southern piece of the JMT was like for them. At 9:30pm there was still a lot of laughter, but I didn't mind – I missed this community! Earplugs in – bedtime!
Day 4: In Which We Get Pelted with Hail and Fall in Love with Tenkara