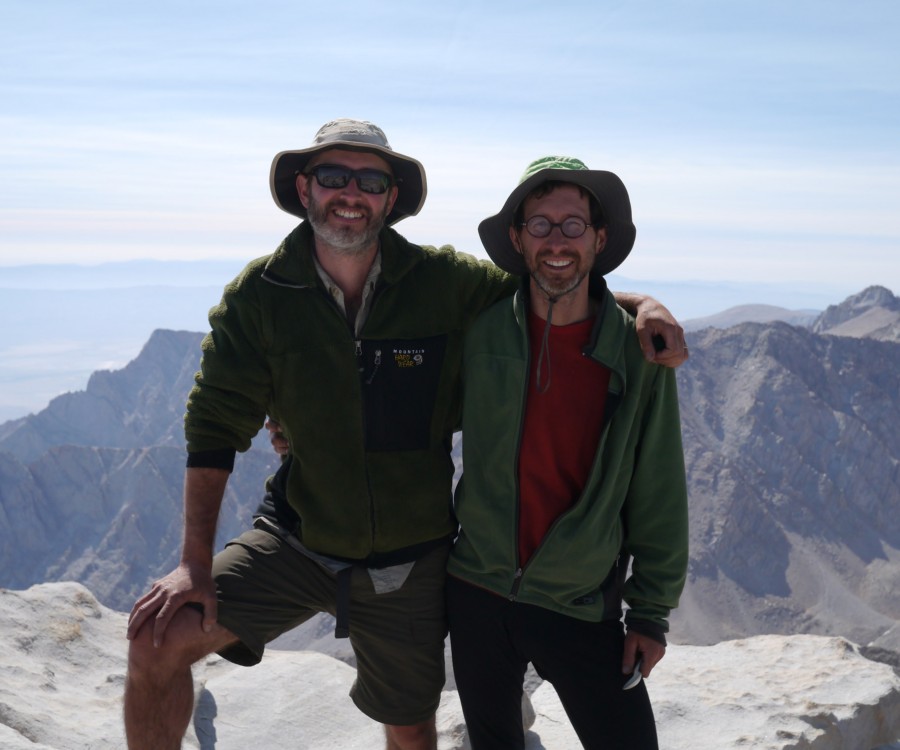 Daily: 5.0 miles (+ 10.0 mile decent)
Trip: 210.4 miles
Camp: Lone Pine Portal Motel, Post-Mt. Whitney Summit
"Here ends my forever memorable first High Sierra excursion. I have crossed the Range of Light, surely the brightest and best of all the Lord has built; and rejoicing in its glory, I gladly, gratefully, hopefully pray I may see it again.
– John Muir, 1869
Yum. My burger is really, really good. The fries are excellent. And my ice-cold Coke is a slight change from the Aqua Mira-treated water that's been warming in my bottles for the past 220 miles.
Did I say Yum? Good. I earned it!
The night was a good reminder of my life at home with young kids. Neither Green One nor I fell asleep easily, even as the night grew colder. I finally dropped off somewhere around midnight, having drained my cell phone battery down to 5% as I listened to my audiobook. Our fellow hikers were pretty quiet, but it's tough for a dozen people to pack up and clear a campsite without waking me up. Oh well, no big deal. Back to sleep for a couple hours and then it was 5am. The sky was starting to get lighter, and it was summit day!
The wind I'd desperately wanted yesterday had come up. Combined with the 40° temperature, it was downright chilly. My morning routine was a bit complicated this morning because the Whitney Zone is a true 'Leave No Trace' area. In addition to packing out all our trash, we'd been provided with WAG bags and were supposed to pack out everything.
Ever poop in a bag? How about in an area where there are no trees or shelter? How about in your tent? I've slept in the tent about 200 nights. The corners are leaking and I haven't been able to reseal them. The door zipper is now toast. I'm not sure if I've just spent my last night in my Wanderlust 2-4-2. But after debating long and hard whether I should do my business in my tent, I hiked a couple hundred yards up the slope and semi-hid behind a boulder. Mission accomplished. And I'm really looking forward to using a toilet next time!
Guitar Lake is the last water source until after the Whitney summit, so I cameled up some water and filled both my quarts. Then my brother and I packed up and started climbing.
It remained cold as we climbed. Mt. Whitney was standing between us and the sun so we were in shadow all the way up to the ridge. I'm always warmer than G.O. and he was suffering on the way up. I can't say the hike was real easy for me either – I almost choked on a Snickers bar! Climbing at elevation while eating is tough. Your body needs food, but breathing is much more important. I took a big bite and didn't have enough time to chew and swallow before my body demanded more oxygen. Oops. After some good choking and gasping, I managed to clear my throat, regain my breath, then finish my last Snickers bar. Lesson learned.
We climbed 2000 feet in three miles and hit Whitney Junction around 9am where we dropped our packs with those of the other backpackers. The trail from Whitney Junction leads up another 1000 feet over two miles and then backtracks over the same trail before heading down. So we were able to drop almost everything from our packs and head to the summit carrying less than 10 pounds.
The trail to the summit is cool. You pass between the mountain and a number of jagged rock formations on the Guitar Lake side of the ridge. Then you start passing the Whitney Windows, gaps on the south side of the trail where the trail drops thousands of feet. Finally the summit shelter comes into view &12frac; mile away with hundreds of feet of climbing left. At that point it's easy and finally walking to the top is a triumphant mix of emotions. My Appalachian Trail thru-hike experience is always with me and I'm confused which emotions come from the AT and which are the result of this hike. My brother chose not to complete his AT thru-hike nine years ago, although he did hike over 600 miles. I'm hoping his finishing the JMT is a great experience and happy that we've made it through 210 miles of hiking with very few issues.
At the summit the view is magnificent. Not surprisingly, everything is below us. We're ringed by mountains and can see down into Lone Pine, the town about 10 miles away. We hang out with Michael, a CA backpacker we met the day before, as well as some other hikers. I find I have cell phone service for the first time in 13 days and exchange texts with Heather & Erin as well as my friend Rog. I could probably get a call out, but my battery is down to 3% and we'll be in town this evening. So I shoot some summit photos, record a final video from the top of the Continental United States, and we start down the trail.
Once we hit Whitney Junction and re-pack our packs, the trail leads over Trail Crest and then down the south side of Whitney. We know what's ahead of us and I'm a little apprehensive. The good news is that, eight miles and 5200 feet below us, is a hamburger. And a shower.
The trail down the upper part of Whitney has 99 switchbacks. That's just the beginning, but it's the steep part. The trail continues down for another six miles and I start getting tired with about three miles to go. Not surprising given that it's an emotional and tough 15 mile day, but I don't want to eat the dregs of food in my bear can. I want a hamburger. So we take a brief rest and then head down again. Once the parked cars come into site with a mile to go, I relax. Then it's just one step after another until we're sitting at a picnic table.
Turns out the hardest race in the country ended here the day before – the Badwater 135. There's nothing like being put in your place and we're feeling humbled knowing these athletes ran 135 miles from Death Valley up to the Whitney Portal with the winners finishing in just over 24 hours! One of the teams gives us a lift down to Lone Pine and we get a room at the Portal Motel.
The first shower feels so good, it's almost better than the steak, fries, and three root beers I kill that evening. It's too late for a video with the kids, but great to catch up with Heather and our parents.
Coming Home