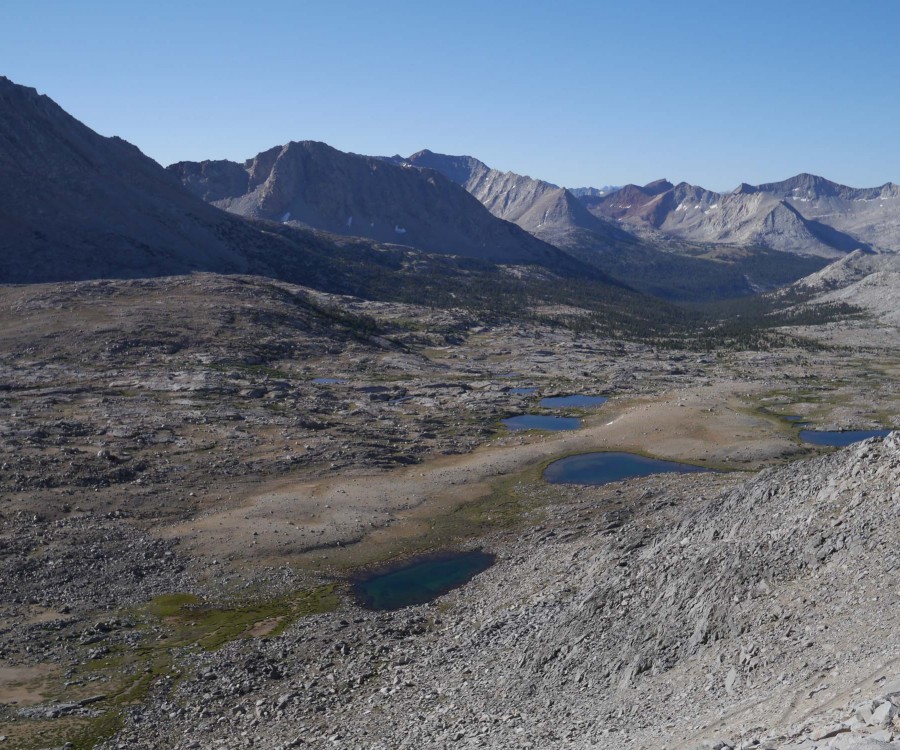 Daily: 17.5 miles
Trip: 166.5 miles
Camp: South of Sawmill Pass Trail
Hardest, longest day yet! Still a good one, however. I slept in 'til 5:45am and did my now patented 'Quick Pack Up and Run for the Woods' routine again, trowel in hand. While it's never fun to be under that kind of pressure, it's nice to get it done before other hikers are up and about. Sure is hard to find good places in these rock-strewn valleys, though!
Once back to camp, I get my morning's food out of my bear can and finish my pack up. Breakfast is a Snickers bar and some granola. Before you go thinking a Snickers bar isn't a good breakfast, let me make a few arguments:
Chocolate bars melt in the heat of the day. They stay intact in the bear can and, eaten in the cold of the morning, they stay hard.
Sugar is the most important food to keep body temperature up when it's cold out.
You can eat them easily while hiking, also helping warm up in cold temps
I like Snickers bars. Everyone but my friend Jbird likes Snickers bars, and one of these days she'll figure out her mistake.
I also pull out another energy bar or two and often some dried fruit or trail mix. Morning food is all about easy, palatable calories for me!
The trail led directly up to Mather Pass. Do Not Pass Go. Do Not Collect $200. 1200 feet. Good Morning! That's the downside to camping at Upper Palisade Lake – no warmup! But it was still nice and chilly, around 50°, and they did put in plenty of switchbacks.
Mather Pass is incredible. The trail switchbacks up and down a rather shear face with tons of trail work in place to hold the trail in place. The way down might be on a 65° face. We were passed by a few hikers going in the other direction and I felt I had to look straight above me in order to find them a few minutes later. Green One and I made good time on the well-graded decent and lost 2000 feet over the next six miles. Then it was lunchtime. Pepperoni, peanut butter and Wheat Thin sandwiches!
We expected the afternoon ascent of Pinchot Pass to be tough, but it seemed pretty easy. We climbed 2000 feet back up and hit our second 12,000 foot pass of the day. It was a fun climb through multi-colored rocks, high lakes and some gusty winds. It barren up top, but we're getting used to it. A north-bound PCT hiker had told us yesterday that the entire rest of the JMT was going to be ups and downs starting with the Golden Staircase. From the look of the elevation profile, she's right – there's almost nothing flat for the next 60 miles.
The decent from Pinchot was harder than expected. And I'm not sure that it was the descent – I think we were just tired! We lost 2200 feet in just over four miles and were stumbling a bit by the end. G.O. and I felt like we were keeping a good pace but never seemed to be getting anywhere! We reached our planned campsite around 4pm and, despite our fatigue, weren't happy with it. It wasn't very flat and seemed likely to be buggy. So we found a reference in the Wenk campsite listing to a nice site about a mile down the trail and humped our way downward.
Luckily it was a great campsite and we were able to set up tents and be eating dinner with still an hour or two of light remaining. The coolest fly I'd ever seen landed on my pack and just stayed there while I set up camp. Then it was dinner time – Chicken & Dumplings, Tang, berry & lime smoothie, handfuls of almonds, sesame sticks and peanut M&Ms. I try to get at least 1000 Calories for dinner and it's tough to eat enough food after such a hard day!
Day 17: In Which Hamburgers, Fries, and Root Beer Begin to Dominate All My Thoughts