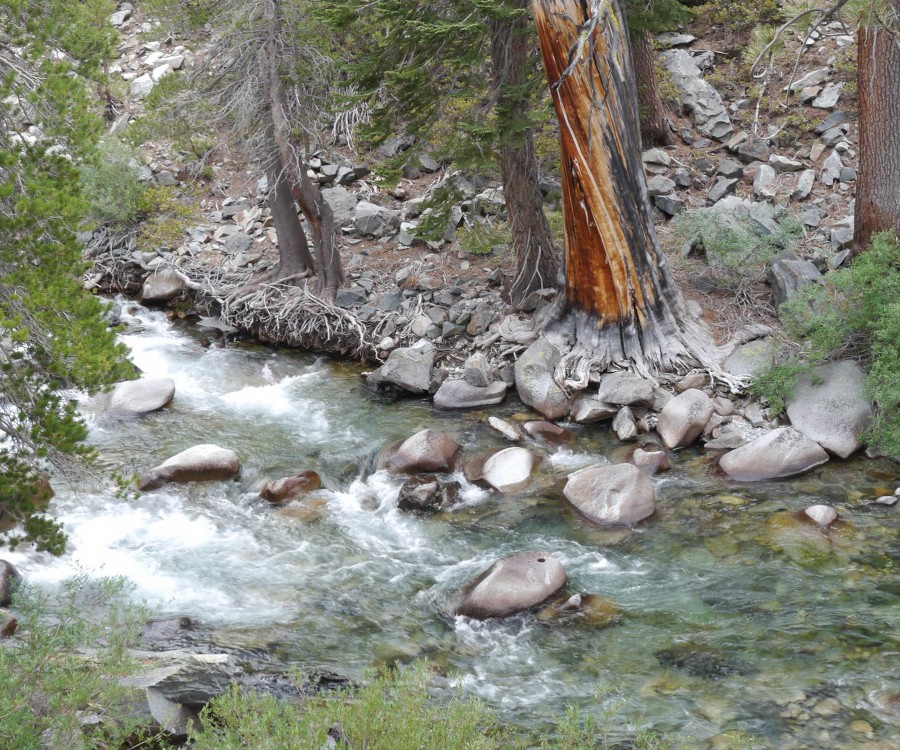 Daily: 9.4 miles (+ 3 resupply miles)
Trip: 111.2 miles
Camp: Aspen Meadow, Kings Canyon National Park
My ULA Ohm backpack is supposed to carry 30lb. Or less. It's supposed to be comfortable up to 25lbs. Or less. The idea of taking my over-two-pound bear canister and cramming it full of food sucks. The idea of taking the leftover food that didn't fit in the bear can and stuffing it in my pot also sucks. And the food that didn't fit in the bear can or my pot? Yeah, that sucks too.
Oh well. The other option is not eating much over the next eight or nine days. Or hiking the remaining 115 miles faster. Or hiking 15 extra miles one day to resupply from a town down a side trail. Lousy, eh? Suck up and deal.
So my pack now weighs 40lbs. It's like giving my son a piggyback ride but not being able to put him down and tell him to walk. The good news is that I have lots of yummy stuff to eat. And that my brother is suffering with me. 🙂
We had our usual nice morning walk after saying bon voyage to Pascal and his donkeys. Why was it a nice walk? I had only a pound of food in my pack! Seriously, if you haven't backpacked, don't underestimate the difference in hiking with a light pack. A heavy pack can ruin your mood & hike. It creates contact pain on your hips and shoulder, it stresses your back and adds to the pounding on your legs and feet. Especially on the feet! If you can walk with your backpack slung over one shoulder, you're doing something right!
The trail led us through a beautiful meadow, across the sides of some nice hillsides, and into view of Muir Trail Ranch far below us. We hit the first intersecting trail junction 4½ miles into the day and decided against hiking down to the ranch from there, knowing we'd only feel right if we hiked back up that trail to resume our walk on the JMT. Instead we hiked for another 1½ miles to the second trail. That meant our return hike to the JMT would be longer but flatter. Have I mentioned the weight of the food? Can you appreciate our brilliance?
So we turned towards MTR and the 5-gallon buckets containing our mail drops. It's a backcountry dude ranch with a small store, food drop storage, and an incredible collection of Hiker Buckets. I've seen hiker buckets (leave extra, take what you need) many times, but they had an organized system of over 100lbs of supplies free for the taking, donated by other hikers. We watched the father & daughter ahead of us (Dean & Olivia) drop the entire contents of a mail drop into the buckets. Their friends had to bail after the first week and told them to donate the food & gear. Then we watched at least 8 hikers come in after us and exclaim in delight over the high quality meals. Heck, Green One traded up a bit as well!
Food prep done, we chatted with some of the other hikers including She-Wolf and Soulman. Then we paid $10 for 15 minutes of slow internet access to tell our family that we were still alive. With the lack of cell service, that might be the only word we get out until the end of the trail.
The afternoon hurt. Stopping after only a mile and eating lunch, however, was lovely. Not only was I starting to get rid of the godforsaken weight in my pack, but the Triscuit, peanut butter, and Vermont smoked pepperoni canapes I put together were good enough to serve at a party. Putting the pack back on afterward, however, still sucked.
We entered Kings Canyon National Park about 8 miles into the day. It was our final park/wilderness of the trip and we'd walk in the park for the next 100 miles. From there, it was just 1½ miles to Aspen Meadow where we set up camp under another beautiful juniper. After a bit of a cleanup, we ate lots of food – heaviest items first! More canapes, beef stew, my berry & Tang smoothie and a handful of jelly beans. By the end of the meal, our food almost fit into the bear cans and we risked leaving the rest in our tents, too tired to deal with it. No problems!
Day 13: In Which We Finally Ford a Creek, Climb Into Evolution Valley, and Can't Find a Campsite at Sapphire Lake