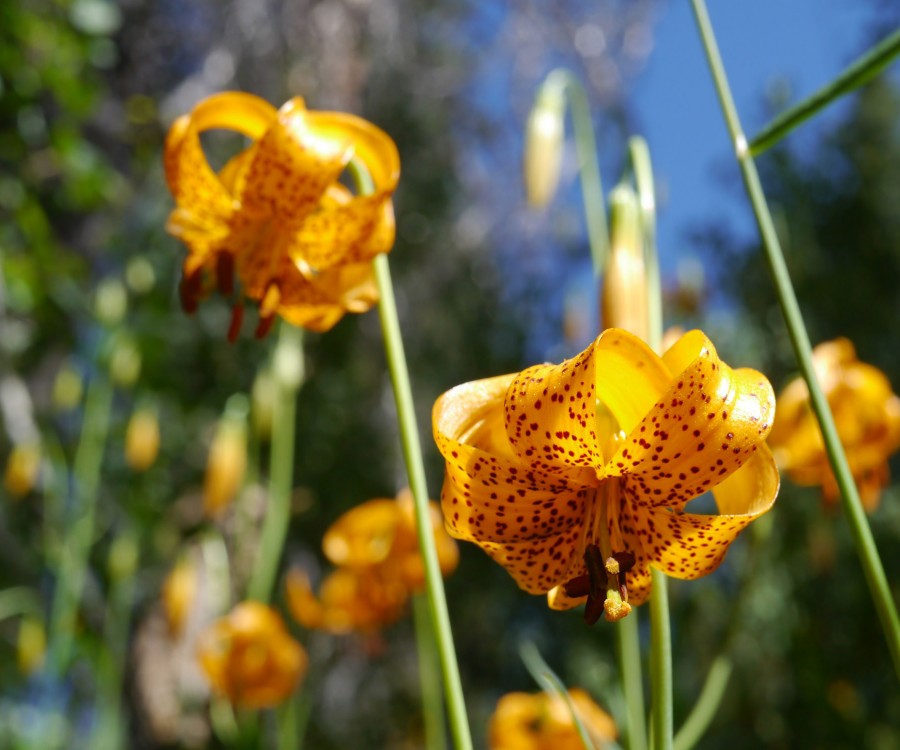 Daily: 13.7 miles
Trip: 101.8 miles
Camp: Sallie Keys Lakes
On the East coast, you can't hike for a few days without crossing a road. On the northern half of the Appalachian Trail, I had cell service at some point nearly every day. In the heart of the Sierras, we're in the wilderness. It's only been four days since we were near a road. But we're nine or ten days still from the next road!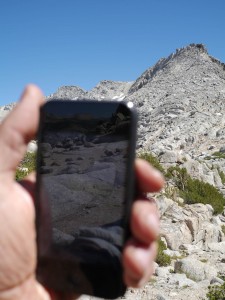 And then there's the lack of cell service. At 10,898 ft on top of Selden Pass, I was really, really hoping to find a signal. It's my eighth anniversary and I've now left the kids with my wife for the past 12 days. I know there are flowers being delivered today, but I was really hoping to get at least a text out. So I turned my phone on for a few minutes on top of Selden Pass and started typing out a text message. Verizon Wireless decided to mess with me. Instead of continuing to show 'no service', my phone showed a single bar. For five seconds. And then back to 'no service'. I started to climb the rock to the sides of the trail, walked around holding my phone in the air like an extra six inches would matter compared to my nearly 11,000 ft elevation. And bitched and moaned to my brother.
But I'm conserving battery on the phone and the message wasn't delivered within a few minutes, so off it went. I hope the flowers got to Heather. I hope they found some peonies instead of just roses. I hope the kids are making things easy on her. And I hope I find some service before Mt. Whitney!
I love you, Heather! Thank you!
We didn't start the day on top of Selden Pass, however. The trail out of our campsite was a wall. 2,000 ft of up. Luckily we got our usual early start and walked and talked our way up the well-graded path before it got too warm.
After that, things got easier. We passed more beautiful trees, rocks, and Sierra Lily-filled creek beds. The contrast between the ultra-dry trail and the cooler, moist depressions around the small creeks is stark. It'd be nice to stop and spend more time in the wildflower patches that grow around all the creeks, but that's where the mosquitos are. So we walk through, looking at the flowers, treating water as necessary, and finding drier locations to take many of our breaks. Lunch was at a powerful waterfall on bear creek where we were able to cool our feet and enjoy the water without mosquitos. As a bonus, I managed to catch and release a couple brookies in about 5 minutes of fishing before we started hiking again.
The afternoon's climb up to Selden Pass was harder than we thought it would be. The heat and miles caught up with us a bit, but a nice break island-filled Marie Lake rejuvenated us. We descended to Sallie Keys Lakes, set up camp between the lakes, and spotted a huge deer near us. A couple minutes later, my brother realized the 'deer' was actually a donkey and that there were two of them. Oops. Our neighbor is a fascinating Frenchman named Pascal. Pascal and his team of donkeys are on a 3,000 mile, multiyear trip up much of the PCT, across the Oregon Trail, then down into Mexico. His blog can be found here: http://longears2chile.blogspot.com/.
I caught a dozen eight or nine inch golden trout in about 45 minutes of fishing and we had them with stuffing for dinner. Pascal came over and we enjoyed his company and conversation. The fish were good, but not as good as last week's rainbow trout. Still, the fishing is fun and easy and it's great to have fresh fish that we didn't have to pack in here!
Going to sleep to the sound of the donkey's bells…
Day 12: In Which We Load a Ridiculous Amount of Food Into Our Packs and Still Manage to Walk