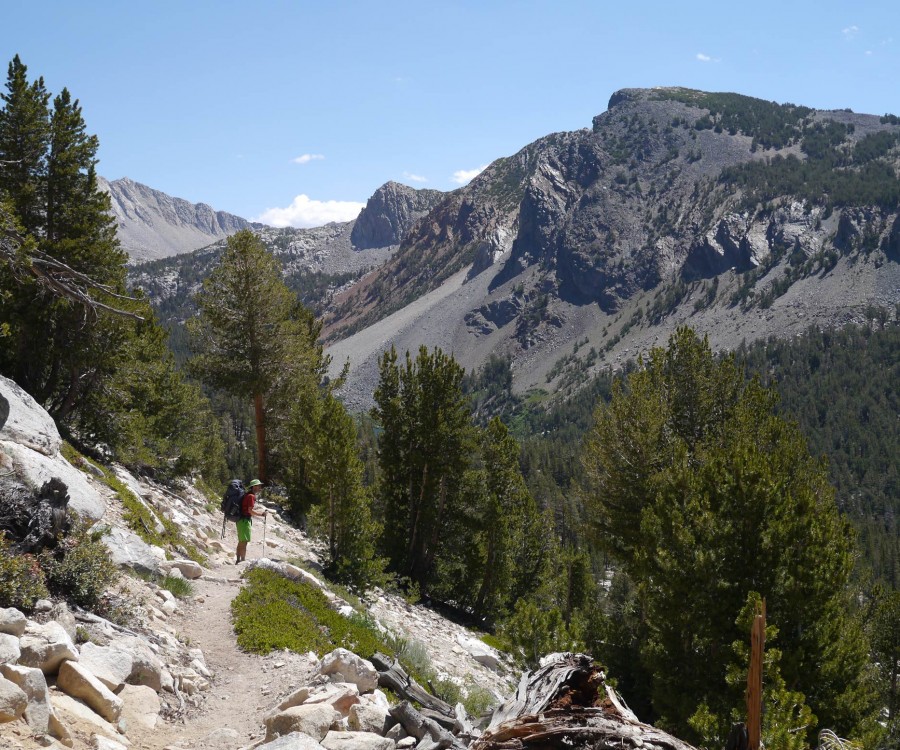 Daily: 9.8 miles
Trip: 75.3 miles
Camp: Lake Virginia

Another easy day for us. I was up by 5:30 and hiking by 6:15. My brother caught me a couple miles in and we walked and talked our way through eight miles of dry but beautiful terrain. While I can't identify almost anything I see along the trail, one of the cool ones that registered today was wild rosemary. It's only day two without a shower, otherwise I might have something to rub all over my body! Cool rocks as well – we walked out of the pumice fields during the day but hiked among various colors of volcanic rock all day.
We're starting to run into a number of JMT thru-hikers now. About five groups today including two camping near us tonight. Most JMT thru-hikers go north to south like we are. It allows acclimating slowly in the beauty of Yosemite instead of immediately climbing to 14,500 feet on the first day of the hike. Some hikers do the south to north route, but it's mostly Pacific Crest Trail thru-hikers going in that direction.
At lunchtime today, we stopped at Purple Lake for a couple hours. I caught another six or eight rainbows, three of which were over ten inches. Looked yummy, but we were heading to Lake Virginia at the end of the day and supposedly had better fishing coming, so I let them all go. The strong, gusty wind on Lake Virginia made fishing tough, however and I struck out for the first time on this trip, despite fishing for nearly two hours.
55° at 7:30 this evening. Why at 7:30? 'Cause that's bedtime. Or at least it's when we say goodnight and head into our tents! I know that's the same bedtime I use for my four-year-old son, but there are some good reasons for it.
The wind makes it feel closer to 40°.
We're hanging out over 10,000 feet and hiking lots of miles. I'm tired.
The sun's mostly down by this time since the mountains are usually run north-south.
I have a four-year-old, not to mention a one-year-old at home. I'm banking these hours!
Day 10: In Which We Decided that Juniper Trees are Awesome, But Learned Not to Hug Them